Breast Screen Reader Assessment Strategy
High quality breast imaging and accurate image assessment are critical to the early diagnoses, treatment and management of women with cancer. Mammography is the primary diagnostic tool for detecting breast cancer with 800,000 women X-rayed annually in Australia however, it fails to detect 30% of breast cancers, with many missed cancers being visible on the image. The Breast Screen Reader Assessment Strategy (BREAST) monitors mistakes, identify reasons for mammographic errors and create innovative solutions to reduce errors.
BREAST is based on digital screen reading test sets designed to assess the performance of radiologists and radiology registrars. Developed by a team of researchers at the University of Sydney in collaboration with Cancer Institute NSW in 2011, BREAST has made it possible for thousands of clinicians to assess their performance on high-quality test sets in mammography and digital breast tomosynthesis, at workshops and in their own clinics. This immediate feedback is made possible through the online app, BreastScore. To view how BreastScore works, check out our video.
The data generated by BREAST are de-identified and used for further research in the fields of radiology performance, perception science, medical imaging technologies, breast imaging optimisation, and other domains.
These features make BREAST a powerful radiology training and research tool that is being used in Australia, New Zealand, Asia, Middle East, and Europe.
---
Latest news
BREAST in Hanoi
In collaboration with Bach Mai hospital and GE Healthcare and with the funding from the Sydney SouthEast Asia Centre under the Research Cluster scheme, Prof. Patrick C Brennan, Dr. Phuong Dung (Yun) Trieu and St-Matt students from the Outreach program run the BREAST study in Hanoi in November 2019 to explore the improvement of Vietnamese radiologists in reading mammograms via BREAST test sets. There were 35 radiologists participating in the event with each radiologist reading two BREAST test sets (60 cases in each set) and explored their enhancement in cancer detection on mammograms. This study is conducted following the success of two BREAST workshops organized in Hanoi (2016) and Ho Chi Minh city (2018) funded by SSEAC Workshop Grant.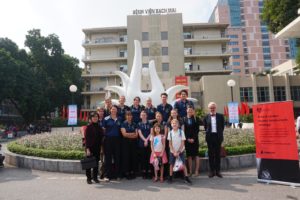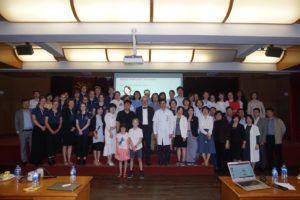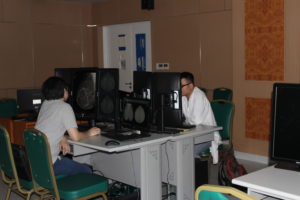 First BREAST workshop in China
In collaboration with Hologic China, and with funding from the China Studies Centre, the BREAST team offered test sets to Chinese radiologists for the first time during the National Breast Imaging Annual Conference of the Committee of Breast Imaging under the Society of Radiology. The workshops were held in the city of Nanchang, Jiangxi Province. It was attended by 57 radiologists from all over China, who completed either a mammography test set, or a digital breast tomosynthesis (DBT) test set. The conference itself was attended by hundreds of delegates, and Professor Patrick Brennan and Dr Gayathi Jiang from BreastScreen NSW gave key note talks.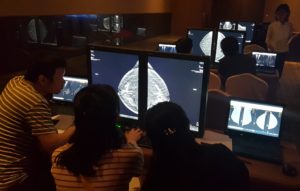 High School STEM program
Since 2016, the BREAST team has helped students from a rural NSW high school explore research questions around how radiologists detect breast cancers on mammograms. Using data from the BREAST databank and involving radiologists from all over the world, Year 9 to 11 students from St. Matthew's High School in Mudgee are working to help our understanding of performance variations in different countries where screening programs may or may not be in place. The students will be travelling with the BREAST team to Vietnam this year to help collect new data. Read more about it here.

October 2019: Out of 115 applications for outstanding initiatives and potential positive economic and social impacts, our application entitled "VIETRAD: Transforming breast cancer diagnoses across Vietnam" had been selected for the Aus4Innovation Partnership Grant Award. This grant is funded by the Australian Department for Foreign Affairs and Trade (DFAT) and the InnovationXchange (IXC) to help strengthen the Vietnamese innovation system. Our project will partner with the Vietnamese Health Strategy and Policy Institute to develop VIETRAD, an innovation BREAST-type program, tailored for Vietnamese radiologists to improve the skills of local readers in detecting breast cancer. Our team, Prof. Patrick Brennan and Dr. Phuong Trieu (Yun) along with Dr. Tran Thi Mai Oanh (Director of Health Strategy and Policy Institute – Vietnamese Ministry of Health) will kick-off this project in Hanoi, Ho Chi Minh City and Hue-Da Nang in 2020.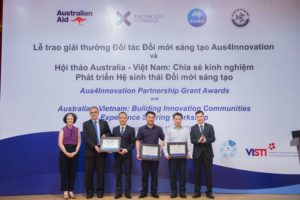 October 2019: Our application entitled "Understanding the diagnostic efficacy of radiologists in Shanghai, China using mammographic and tomographic test set images" has been selected for funding in the University of Sydney – Fudan University Partnership collaboration Award (PCA) 2019 round. Our collaboration will introduce the innovative and interactive online platform BREAST to the radiologists in Shanghai, to assess their performance and explore the BREAST platform's potential to transform cancer detection rates and thereby paving the future for optimised breast cancer interpretation. Our team, Dr. Tong Li, Ms Kriscia Tapia and Prof. Patrick Brennan, along with Dr. Qin Xiao (Radiologist from the Department of Radiology, Fudan University Shanghai Cancer Center) and Prof. Yajia Gu will begin this project in November 2019.
Tong's research interest covers epidemiology, breast cancer screening, breast density and digital breast tomosynthesis. Her current work is around developing new test sets and she leads BREAST's research and training activities in China.
Ernest is a lecturer and his research interests include breast density, breast cancer biomarkers, optimisation of breast cancer detection, medical image perception, dose optimisation, radiographic and ultrasound image interpretation, and novel radiological tools for breast composition analyses and image display.
Ziba's research interests include computer-aided medical image analysis, machine learning, deep learning, image perception, and computer-aided detection and diagnosis tools. Her current work involves developing an innovative breast cancer risk prediction model using radiologist's "gist response".
Ms. Somphone (Ling) Siviengphanom
Ling is the Project Manager for the Gist projects within BREAST. Her expertise in finance, strategic planning and management enables the NBCF and NHMRC-funded projects to achieve the team's objectives and reach project milestones.
Dennis is an HDR student and the Administration Officer at BREAST.  He provides administration support for the team. His thesis and research interests include eye tracking and the use of computer aided-diagnostics for breast density differentiation.
Yun's research includes exploring risk factors for cancer and innovative methods to improve the detection of early clinical indicators of malignancy on medical images. Her current work is around developing new test sets and she leads BREAST's research and training activities in Vietnam.
Moe's research involves radiation dose optimisation for screening mammography. He is currently investigating dose exposure and diagnostic efficacy of screening in older women and leads BREAST's research and training activities in Jordan.
Amir is a lecturer and is working on the clinical implementation of phase-contrast technology as a novel low-dose high-quality 3D modality for breast imaging. His research interests include image perception and personal and social factors pertaining to observer performance. He leads BREAST's research and training activities in Iran.
Patrick is an award-winning Professor of Medical Imaging Sciences and researcher with a focus on medical imaging optimisation and radiological perception. He co-directed BREAST from 2011-2019 and is now Chief Investigator on BREAST research projects.
Phone: +61 2 9351 9586
Email: breastaustralia@sydney.edu.au
Room M504, M Building
Faculty of Health Sciences
The University of Sydney
75 East Street
Lidcombe, NSW 2141
PO Box 170
Lidcombe NSW 1825
AUSTRALIA